Public Speaking and Presentation Skills
Build Confidence Fast and Become the Speaker you want to be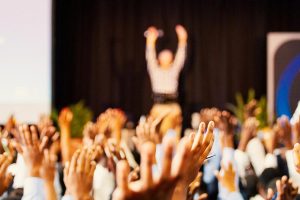 Develop your Public Speaking and Presentation Skills with a Coach
Overcome your public speaking nerves for once and for all. Learn the secrets of confident public speaking. Put structure on your message and organise your ideas without being nervous, Learn the most effective presentation techniques out there. Learn from a Toastmaster and public speaking coach on how to become confident in public speaking. Learn the language and psychology of confident public speakers. Build your confidence with solid NLP coaching. In just one session with a coach, you can eliminate the self-conscious feelings for once and for all. 
Sample Presentation Skills and Public Speaking Course Outline
We have divided our Presentation Skills and Public Speaking training into four key elements to help you improve.
Public Speaking Fundamentals
Firstly, you have to understand what's going on inside when you prepare for a presentation and notice much do nerves interfere? Then, it's important to understand your own presentation style and learn effective techniques to deal with it.  Then it's key to key to learn how to create calls to action from your presentation and how to use your presentation to influence their opinion
Plan and Prepare for Successful Presentations
Secondly, you have set outcomes and frames that get results, for example why your audience here? What do we want from your presentations? We will the help you explore your beliefs about yourself and how they drive and influence your ability to present. Getting into the right state is key to great presenting. We will teach you how to get into a great, relaxed presenting state. You will learn how to create a 'listening state' in your audience;  a listening state is when they are open and ready for your ideas. It's the difference between mere curiosity and willingness to learn.
Manage the Public Audience
Thirdly, you have to learn the presentation recipe for results: 55% body language, 38% tonality, 7% content. Meet your audience's needs and know how to prioritise them
Learn about audience listening/learning patterns, beliefs and strategies. Create a positive experience for your audience, with your story, body language, voice and tone. Learn linguistic skills unique to our training designed by a linguist, with NLP training and coach experience.
Apply what your learn in training
And lastly, you have to apply the principles of presenting excellence – rapport, body language, tonality, the power of the voice and language you use. Become more aware of the mind-body states you experience as you present and how to manage them. Once you are doing that with ease, you can ceate the right frame of mind to present – optimism, resilience – and learn how to handle difficult questions. This course gives you the opportunity to explore how persuasion works with an audience, using language, meaning, and voice.
Why Choose this Public Speaking and Presentation Skills Training
As a training company, we bring only practical, tried and tested presentation skill techniques to those looking to overcome their fear of public speaking. These training tools are 20 years in the making from extensive professional public speaking experience, blended with psychology, linguistics and coaching.
These courses are structured, interactive and offer a high levels of coaching to get change while you learn.  You get to work with a public speaking coach and award-winning Toastmaster, Shiera O'Brien. With that, Individuals who want address their public speaking anxiety, can do so, in confidence. Shiera has worked with people from all industries and levels of organisations. You can  the read written articles on the fear of public speaking based on personal experience and working with hundreds of clients. The patterns are always the same. Read this article on Fear of Public Speaking.
Get In Touch for your Presentation Skills Training
Public Speaking and Presentation Skills FAQ's
learn how you can go beyond this to deliver any presentations with confidence.
Learn more about Shiera by visiting her LinkedIn Profile